Articles

Churchill and His Autumn Years: Ways to Live a Long life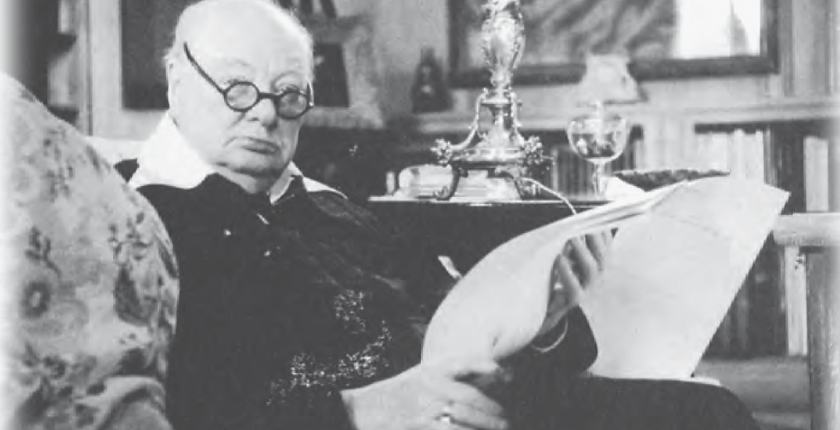 Well over eighty, Sir Winston was still writing. At "La Pausa," his agent Emery Reves's home in Cap Martin, he spent many days reviewing proofs for his "History of the English-Speaking Peoples." (From "Never Despair," Hillsdale College Press, 2013)
---
Long years at the pinnacle
These are curious times for the elderly. The pandemic demands their years be magnified, their actions restricted. Perhaps a look at the challenges Winston Churchill faced in his own autumn years might provide some perspective and encouragement for those graced with gray.
First, the encouragement. Churchill reached the pinnacle of his career, prime minister of Great Britain) at age 65. From there he blossomed, last serving as PM at 80, serving in the House of Commons almost until 90. Yet Churchill in his youth never expected to live long. "It is terrible to think how little time remains," he said on his twenty-fifth birthday.
Superficially it would seem that his concern was justified. He smoked cigars perpetually, drank and ate like a teenager. Some thought he took no exercise—a notion he encouraged. "I get my exercise serving as pallbearer to my many friends who exercised all their lives," he once told his bodyguard, Sergeant Murray. Another myth was his alcohol consumption. The truth of that matter is well documented. In the end, he lived to be 90.What was his secret? He had a few.
Constant activity
Particularly in Churchill's later years, mental and physical activity were essential. He wrote almost until his final years. "I make my living by my pen and by my tongue," he declared, and continued writing for years after he left Downing Street.  Discovering the muse of painting at 41, he poured himself into the hobby. Not until he was nearing 90 did he lay down his brushes. "Blessed are the painters, for they shall not be lonely," he memorably said. "When I get to heaven I mean to spend a considerable portion of my first million years in painting, and so get to the bottom of the subject." Many of his works met with critical acclaim.
Physical exercise was not skipped. Churchill played polo into his 50s, rode to hounds into his 70s. His daily routine at Chartwell included an extensive walk of the grounds and gardens. He loved working outdoors. Animal acquaintances tame and wild encountered him. He dug lagoons, ran a farm, and built brick walls and structures. "A day away from Chartwell is a day wasted," he declared. Given is political and literary output, his exercise was astonishing.
Animal companions
Churchill's Bestiary by Piers Brendon documents Sir Winston's relations with the animal kingdom. He treasured the camaraderie of pets. Dogs and cats abounded at Chartwell. At 80 years of age he was given a parakeet named Toby, who became his constant companion for six years—until the budgerigar flew out of an open window in Monte Carlo. Working on his History of the English-Speaking Peoples, Churchill regarded the bird as a literary aide, "embellishing his letters with blots and scribbles." Toby nibbled the edges of page proofs, signifying, said WSC, that he had read and approved. "Oh! Yes, that's all right, give him the next chapter."
Churchill was nearing eighty years of age when a young boy came to his door with a gift of tropical fish. Energetically, the Prime Minister took up the hobby, establishing beautiful tanks at Chequers and Chartwell. Not long before he died, he was discovered alone, gazing into a fish tank. Undetected, a secretary heard him say softly to a Black Molly: "Darling, I do love you…I would make love to you if only I knew how."
Travel and Family
Churchill indulged his wanderlust. In later years he visited Sicily, Morocco, Madeira and the French Riviera. He was a guest aboard Aristotle Onassis' yacht Christina on eight lengthy voyages when he was between 84 and 89 years old. In all his journeys he was fearless. At 58 he was struck and nearly killed by a car in New York. From his hospital bed he dictated an article about the experience. "Live dangerously; take things as they come," he wrote. "Dread naught, all will be well."
Even in advanced years, Churchill usually saw the glass as half full, not half empty.  "Sometimes when [Fortune] scowls most spitefully," he wrote, "she is preparing her most dazzling gifts." This from a man who spent decades in the political wilderness. (One enemy said he was a man with "a great future far behind him.")
It is true that Churchill sometimes battled depression, though its episodes were greatly exaggerated. Through all the years he stuck to his convictions. "Nature is merciful," he said, "and does not try her children, man or beast, beyond their compass." That is still a useful anodyne for anyone with a heavy heart.
He adored his wife and continually exchanged endearing notes with her. "Here is a letter in my own paw," began one. "Dearest one I place myself at your disposal & intend to take a walk in the park hand in hand." Winston was Clementine's "Pig" and she was his "Kat." Their letters were littered with little illustrations—trademarks, actually—of their respective sobriquets. Their love was playful, even into their older years. It is not proven that he once said, if he could be anyone else it would be "Mrs. Churchill's second husband." But the sentiment was certainly there.
Challenges, responses, perspective
Churchill had his challenges. He soldiered through a series of strokes and a broken hip in his final decade. His faith and perspective sharpened with age. "An old and failing life going out on the tide after the allotted span has been spent and after most joys have faded is not a cause for human pity," he reflected. Although not a practicing churchman, he was confident that the apparatus of Heaven would require him. "After I've been there awhile, the good Lord will have to form a Government. And He will certainly call upon me."
His practical solution for dealing with the pain that visits all human beings is revealed in a quote that is stunning in its wisdom, beautiful in its simplicity, Shakespearian in its cadence:
By a blessed dispensation, human beings forget physical pain much more quickly than they do their joyous emotions and experiences. A merciful Providence passes the sponge of oblivion across much that is  suffered and enables us to cherish the great moments of life and honour which come to us in our march through life.
Now that is a quote to memorize.
Winston Churchill's life beautifully authenticates the platinum axiom spoken by Cary Grant as "Dudley the Angel" in the film, The Bishop's Wife: "The only people who grow old were born that way to begin with."
The author
Daniel F. Harrington ([email protected]), a monthly contributor to The Providence Journal, from which this article was expanded, and president of Chartwell Wealth Management in Rumford, Rhode Island. He thanks Richard Langworth for kind assistance in research and acknowledges Churchill by Himself for verifying quotations.
Further reading
John H. Mather, "Churchill's Character: Hardiness, Resilience and Personal Toughness"
Churchill Project Articles
Stay In Touch With Us
Subscribe now and receive weekly newsletters with educational materials, new courses, interesting posts, popular books, and much more!