Articles

Churchill and the Presidents: William McKinley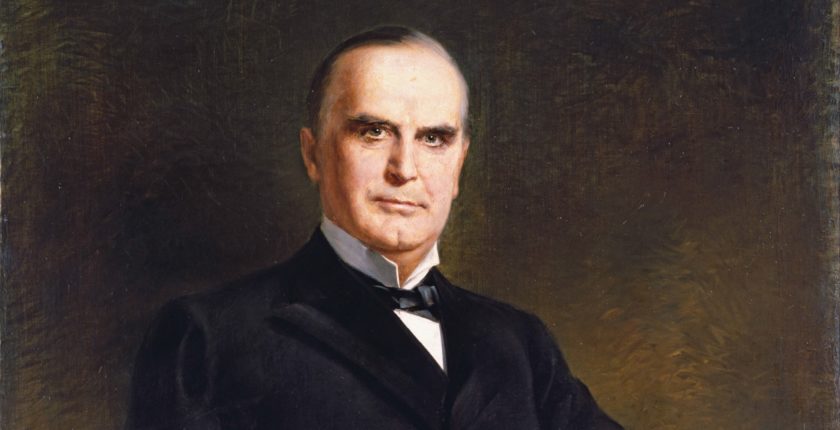 Churchill interacted with eleven U.S. presidents—as many as the Queen. He did not meet all of them, as she has; but you can trace their influence on his thought and principles as you read.
William McKinley (4 March 1897 – 14 September 1901)
William McKinley was the first president Churchill met and the last he covered in his History of the English-Speaking Peoples. In the 1896 election McKinley ran on the gold standard, while his populist opponent, William Jennings Bryan, declared that he would not let bankers "crucify mankind upon a cross of gold."
McKinely's problems, as Churchill described them, are familiar today. "His own party was sharply split," Churchill wrote, "and against him were ranged the Press and the business and financial elements. He embarked on a strenuous campaign, in which his great rhetorical powers were employed to the full. Yet all his efforts were unavailing." McKinley merely stayed home, and, won by over half a million votes.
I always like to tweak Republicans by reminding them that if Churchill had had the vote, he would have voted for the Democrat in every election from 1916 on. But in 1896 he was firmly with the Grand Old Party—as was his mentor, Congressman and Free Trader Bourke Cockran, who had bolted from his fellow Democrats to campaign for McKinley. Later Cockran, like Churchill, bolted back. "Anyone can rat," Churchill would say later, "but it takes a certain amount of ingenuity to re-rat."
After McKinley's triumph Churchill wrote Cockran, suggesting that the British system was superior: "….no price was too much to pay to smash Bryan and display to the world on what firm foundation American credit and honour repose," he wrote. "But I wonder if you would care to calculate how much [it] has cost you in dollars….Yours may be the government for gods; ours at least is suitable to men."
So here is Winston Churchill in 1896, coming out unequivocally for campaign finance reform, like Senators McCain and Feingold a century later.
Cockran played host in 1900 when Churchill arrived for a North American lecture tour. When the Englishman went to Washington, Cockran handed him off to Senator Chauncey Depew, former president of the New York Central Railroad. Wags used to send letters to "Chauncey Depot, c/o Grand Central Depew."
Depew, who knew everybody, showed him around the Capitol and introduced him to President McKinley, whom young Winston pronounced highly satisfactory. But on this slim encounter rests all we know about Churchill and McKinley, who was silent about what he thought of Churchill. By mid-February the Englishman was back home, taking his seat in Parliament, and immersing himself in his own Free Trade battles. McKinley was fatally shot in September.
Churchill Project Articles
Stay In Touch With Us
Subscribe now and receive weekly newsletters with educational materials, new courses, interesting posts, popular books, and much more!