Articles

Churchill and the Islamic World – by Warren Dockter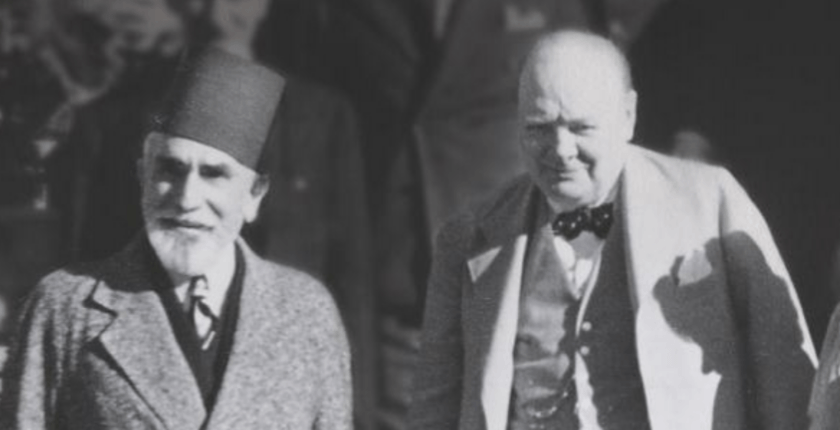 Warren Dockter, Churchill and the Islamic World: Orientalism, Empire and Diplomacy in the Middle East (London: Tauris, 2015), 378 pp., $30.32.
---
Winston Churchill never attended University, so after leaving the military college at Sandhurst, he began a rigorous program of self-education. At twenty-two, when "the desire for learning" began to "press insistently" upon him, many subjects fired his interest. "Then there was history": his autobiography, My Early Life, explains that when he read Macaulay's History of England, "There was no one at hand to tell me that this historian with his captivating style and devastating self-confidence was the prince of literary rogues, who always preferred the tale to the truth, and smirched or glorified great men and garbled documents according as they affected his drama."
Historians, who have a difficult job, may need years to discover the full story of Churchill's self-education. Warren Dockter, a junior research fellow in history at Clare Hall, Cambridge, tries to stop fools from rushing into a gap in the record by writing his dutifully-researched study of Churchill's "attitudes and policies" in his most important encounters with Islamic regions and peoples. Intended as a corrective to incomplete views—a number of them frequently asserted in the years since 9/11—his book begins an important conversation which deserves more serious thought and discussion.
Beginning in 1896, with a letter from Churchill to his old schoolmaster, the Rev. J. E. C. Welldon, Dockter reaches farther back than most previous accounts of the subject. He admits that Churchill's experience of the Islamic world made him different from his contemporaries, but largely neglects Churchill's exceptional ambition and intelligence. Social science jargon, especially in his early chapters, leaves the reader wanting more depth and clarity.
Sometimes Dockter editorializes without strong evidence, claiming that Churchill's respect for Islamic frontier tribes was "reluctant" (29) or, later, that Churchill seemed "uninformed by his own earlier writing" (231). Churchill's years as Under-Secretary for the Colonies (1905-08) gave him the opportunity "to meet and socially interact with major players in the world of Islam" (39), such as the Sultan Mohammed Shah, Aga Khan III, and leaders of the Young Turk movement, including Enver Pasha. While the author recognizes the importance of these meetings in developing Churchill's understanding of Islam, his frequent use of jargon weakens his otherwise serviceable presentation.
In exploring Churchill's four years at the Admiralty, Dockter repudiates the notion "that Churchill's blunders" in the First World War "were caused by orientalist thinking" (52). A central theme of his book is that, although "Churchill's main concern was British interests, his understanding of the Islamic world and his concern for Muslim populations…undoubtedly played a role in his thinking" (61). Evaluating his actions up to the First World War, Dockter develops a second theme: that Churchill's "ability to marry different interests together" (53) was an important part of his political strategy and character.
After the First World War, Dockter emphasizes Churchill's disagreements with Lloyd George's harsh policies towards Turkey and his role in the "creation and implantation of the colonial air-policing policy" (85), including the controversy about using "gas bombs" (114) in Mesopotamia and elsewhere—which, Dockter argues, Churchill thought more humane than other alternatives (117). His "intentions for use of air power were principally benevolent towards the tribesmen" (85), as well as relatively inexpensive. In his study of Churchill at the Colonial Office (1921-22), Dockter invites us to "move away from the traditional concept of Churchill as a rabid imperialist and purely pro-Zionist policy maker" (156), stressing that "Churchill was relatively progressive in his approach to the Middle East" (129).
Dockter doesn't shrink from reproducing Churchill's most controversial remarks on other cultures. By dusting them off and locating them both in the moment and the whole context of Churchill's political life, he helps dispel a bit of the murky fog that often shrouds discussion when "amateur historians, journalists, bloggers, and those with a political agenda [try] to colour Churchill's legacy with false perceptions of Islam, creating an impression that he was both Islamophobic and bigot" (7). He might have done a better job, however, in pointing out the significance of the disparate sources of these quotations.
Those familiar with Churchill's fastidiousness in all things literary will enjoy reading Dockter as he quotes a letter in which Churchill insists "that a uniform system of spelling and pronouncing Arab names should be adopted" (130), or discovering how Churchill "meddled" in Middle Eastern affairs even when Chancellor of the Exchequer, asking in letters to a civil servant, "What is the rate per word with Persia? What is the total expenditure of the Foreign Office on telegrams?…Foreign Office representatives in Persia are unnecessarily verbose in their telegrams" (194–95).
Dockter follows Churchill's relations with the Middle East and India during and after the Second World War, as his views of the geography of the Islamic world evolved, and notes how he again "married his military strategy with the larger diplomatic strategy to ally Britain with the Islamic World" (215). He touches on the complex problems involving Muslim populations during the war, but explains that for Churchill, they were necessarily secondary to the war effort (246). Nonetheless, even in October 1940, Churchill "approved plans to build a new mosque in central London and even set aside £100,000 for the project" (231). Dockter examines his correspondence with members of the Muslim League, its allies, and other contacts in India, showing that Churchill's support of Indian Muslims, which began in the 1930s, continued after the war. He presents evidence that "it would be unfair to say that Churchill's move towards accepting Israel meant he turned his back on the Arabs," but calls WSC's strategies for resolution between the parties "out of touch" (263–64). He perseveres in this judgment of Churchill's views as "almost reactionary and ridiculous" (273) as British influence disintegrated in the Middle East and India during the 1950s, although he mentions Churchill's genuine concern for the common people, while mourning the loss of imperial possessions as strategic outposts of the British Empire.
The author's language occasionally incorporates confusing and contradictory labels that seem to undermine previous assertions, or at times is unduly simplistic and dismissive. Careless slips, both in the text and in the notes, together with repeated recourse to contrasting claims beginning "however" and "moreover," leave the reader less impressed than he might otherwise be with such a useful effort on an important subject. Even as Dockter aims to offer "a nuanced understanding" of Churchill and his character (287), his statements often disconcert the reader by their lack of firmness.
Before Churchill and the Islamic World was published, an article in The Independent (28 December 2014) claimed that its author had "discovered" a 1907 letter to Churchill from Lady Gwendoline Bertie asking him not to convert to Islam. That letter was published by Martin Gilbert almost half a century ago, in 1969, in the second companion volume of the official biography. Although Dockter should hardly be blamed for the breathless ignorance of a newspaper reporter, sometimes his book gives the same impression of having discovered more than it actually offers.
Churchill Project Articles
Stay In Touch With Us
Subscribe now and receive weekly newsletters with educational materials, new courses, interesting posts, popular books, and much more!