Articles

Churchill and the HMS Enchantress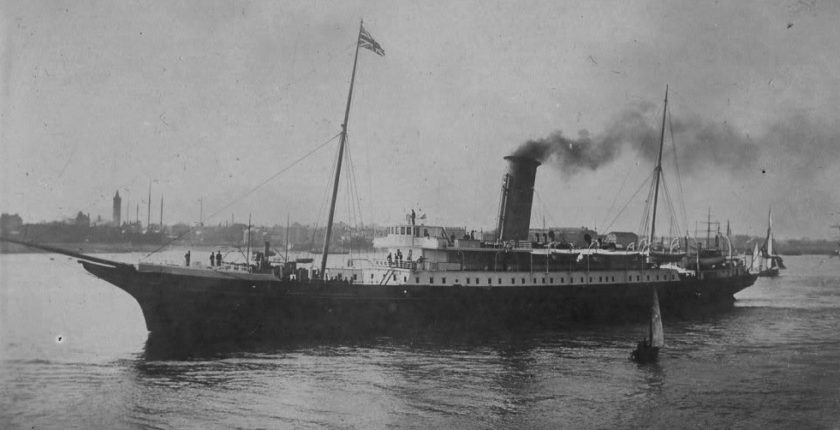 Winston Churchill was appointed First Lord of the Admiralty effective 25 October 1911. His new office, the most exalted to date, came with two excellent benefits. First was his official residence, Admiralty House. Second was the Admiralty yacht HMS Enchantress, a superbly built vessel of 4000 tons, aboard which he would visit hundreds of naval establishments and ships in the British Isles and the Mediterranean.1 For the duration of his nearly three peacetime years as First Lord, Churchill spent a total of eight months on the Enchantress.2
While traveling aboard Enchantress, Churchill did a great deal of his Admiralty paperwork. He also found time to use the ship for sightseeing with the prime minister, H.H. Asquith, and his family, prominently of course his wife Clementine.
HMS Enchantress was built by Harland & Wolff, a British heavy industrial company specializing in shipbuilding and offshore construction, located in Belfast, Northern Ireland. This famous company would later build the three White Star giants, Olympic, Titanic and Britannic. The cost of the Enchantress was £131,000 (£13 million in today's money) and the ship was launched at Belfast on 7 November 1903. Purchased by the Royal Navy for members of the Admiralty Board and the First Lord, she was the fourth of five Royal Navy ships named HMS Enchantress. Of the other four, the only vessel that became an Admiralty yacht was a dispatch vessel launched in 1862.
Churchill's Enchantress had twin propellers, one on either side of the keel, which when cruising revolved in opposite directions. She was 320 feet long, 40 feet wide with 6400 horsepower. Weighing 3470 tons, she traveled at 18 knots, and was armed with a trio of three-pounder guns.3
Stefan Buczacki described HMS Enchantress as "one of a lost breed of ocean-going splendours, a steam yacht. They were glorious craft with slim and elegantly raked funnels, a bowsprit and sumptuous polished wood and brass, epitomizing late Victoria and Edwardian style and grace….In 1911, the navy had two—the twin-funneled Royal Yacht Victoria and Albert III and the single funneled Enchantress, with a complement of 196 officers and ratings [10 officers and 186 men] which was at the disposal of the Commissioners of the Admiralty, especially of the First Lord. And no First Lord took greater advantage of her than Churchill. He had been in post for only a few weeks before he was on board."4
HMS Enchantress Travel
Churchill wasted no time making himself acquainted with the ship, paying his first visit on 5 November 1911. Her commander was Captain W.G.E. Ruck Keene MVO, RN. The log book records Churchill arriving at 10:30 a.m. to inspect the ship and ship's company at Cowes, Isle of Wight, where his parents had first met in 1874. From there he sailed to Portsmouth, where he inspected the dockyard and submarine depot.5
That day Churchill wrote Asquith, his first of many letters from the HMS Enchantress: "I have come across one disconcerting fact: there is a shortage of 120 21-inch torpedoes, meaning that thirty of our best destroyers would have to go to sea without reserves of any kind other than the two they carry." Churchill added that the deficiency "cannot be fully repaired till April or May at the earliest."6 Already he was using his sumptuous accommodation for serious business.
On Churchill's second voyage, three days later on 8 November 1911, HMS Enchantress joined the naval vessels escorting the King and Queen out of Portsmouth harbor on their way to India. On his third voyage, 17 November, Churchill launched the battleship Centurion at Devonport. In December, on his fourth and fifth journeys, he inspected the torpedo-boat destroyer Falcon, inspected the Royal Naval Barracks at Portsmouth and visited the submarine school.
Some Members of Parliament believed that, in the interest of public economy, the First Lord of the Admiralty should give up Enchantress as the port admiral yachts had been. The question was put of Churchill on 5 March 1912 by Sir C. Kinloch-Cooke, Conservative Member for Devonport, chairman of Naval and Dockyards Committee. Churchill replied:
"I have carefully considered the general question of the Admiralty yacht, and have come to the conclusion that it should be retained. It is desirable, in the public interest, that the visits of the Board of Admiralty to the ports and to the fleets should be frequent, and that members of the Board, particularly the First Lord himself as the Parliamentary head, should have opportunities of seeing things with their own eyes, and of getting to know and keeping in touch with officers in the dock yards and the seagoing fleets. Such an association is of real value, and the facilities afforded by the Admiralty yacht play an important part in it. It stands on a wholly different footing from the yachts of port admirals, which have been abolished, for port admirals reside at the centre of their local commands, while the Board of Admiralty have the whole of the establishments of the Navy to inspect. The Admiralty yacht becomes a hospital ship in time of war, and her crew join the fleet on mobilisation. In these circumstances, therefore, I do not recommend that any change should be made."7
Inspecting Naval Yards
Using HMS Enchantress to inspect naval dockyards and ships proved beneficial, as Churchill learned after spending six days in March 1912 at Portland. He wrote to Clementine: "I have got on the track of waste of money in refitting & repairing ships unnecessarily—just in order to make work for the dockyards. Probe, Prune, Prepare—one cannot do too much of it."8
Churchill was soon inviting friends and associates aboard the vessel. On 22 May 1912, Churchill, his Second Sea Lord, Prince Louis of Battenberg, Prime Minister Asquith, and his daughter Violet boarded the ship for a cruise. They sailed the same day and arrived in the Bay of Naples on May 24th. Violet wrote that they "anchored in the harbour under grey skies. Vesuvius hidden in the clouds, no sun or colour anywhere. In many ways it looked rather like a Scotch shipping town. Some of us went on shore in a pinnace—straight to the Museum where we saw the most wonderful treasures….Back to the Yacht for luncheon."9 When possible, Clementine Churchill joined her husband aboard, as on 13 September 1912 on his visit to Immingham, where he inspected the new deep water dock on the Humber for possible naval use.10
During 1913, when Churchill increased his visits to dockyards, naval ports and bases, Enchantress became his second home. On 6 April he wrote Clementine from Portsmouth a revealing note on his shipboard routine: "I stay placidly in my nice cabin working all the morning, walk around the dockyard in the afternoon & then home to tea & a couple of hours more work before dinner. The papers in files & bags & boxes come rolling in. One never seems to do more than keep abreast of them."11 He seemed, as he said on another occasion, "a truly happy man."
That same year Clementine and the Asquiths joined Churchill on Enchantress in Venice. They sailed through the Adriatic to the Mediterranean visiting Malta, Sicily, and Corsica—probably inspiring Punch's memorable cartoon about their voyage. At Malta, Churchill met with Field Marshal Kitchener and talked about the defense of the Mediterranean.
Their luxurious activities did not go unnoticed, and on June 26th Churchill was again queried in Parliament on the use and costs of the Admiralty yacht. Churchill replied that since he had assumed office, HMS Enchantress had covered 19,705 miles and consumed 4,900 tons of coal, taking him to nearly every port in the British Isles connected with naval interests: bases, ports, private dockyards and shipbuilding yards. He had also visited, or inspected, between sixty and seventy battleships and cruisers, many on several occasions, along with destroyer and submarine flotillas. He had been present at day and night exercises of the Fleet on thirty and forty occasions. Clearly, Churchill said, Enchantress was worth the expense.12
The Final Days of HMS Enchantress
On 8 February 1914, Churchill mentioned that Enchantress had been repaired and "v[er]y well refitted. The forecastle deck is finished & makes her a much better sea boat. The fore & aft bridge gives a splendid promenade of 49 paces….Everything is spotless."13 But war was not now far off. As battle threatened in July 1914, officers of HMS Enchantress were mobilized and sent to the Invincible, and the yacht then served as a field hospital for officers. After the war she was recommissioned in January 1919 at Portsmouth.
Sixteen years later, Enchantress was sold to Dover Industries Limited, Dover, and scrapped on 6 June 1935. At the time, Churchill was asked if he would like to have the pane of glass from the ship that had been engraved with his coat of arms. He declined, saying he had nowhere to hang it.14
Churchill would remember his time on the Admiralty yacht with a great deal of fondness. He enjoyed sailing the blue Mediterranean, as well as swimming, sightseeing, and playing bridge at night. He thought Enchantress an elegant craft, and extremely valuable in meeting his ministerial responsibilities. Equally, he liked taking family, friends, and political acquaintances on voyages. The joy he derived from the Enchantress was undeniable, he said: "It was the finest toy I ever had in my life."15
Featured Image: In the two years and nine months of his time as First Lord of the Admiralty before the start of the Great War, Churchill spent eight of those months afloat in the Enchantress, visiting every important ship in the Royal Navy.
Endnotes
1 Paul Johnson, Churchill (New York: Viking, 2009), 38.
2 Roy Jenkins, Churchill: A Biography (New York: Plume, 2002), 207.
3 HMS Enchantress (1903) 4th Admiralty yacht, Britain's Navy, http://bit.ly/1sLKBWu, accessed 15 May 2016.
4 Stefan Buczacki, Churchill and Chartwell: The Untold Story of Churchill's Houses and Gardens (London: Frances Lincoln Limited, 2007), 47.
5 Randolph S. Churchill, ed., The Churchill Documents, vol. 4, Minister of the Crown 1907-1911 (Hillsdale, Mich.: Hillsdale College Press, 2007), 1372.
6 Martin Gilbert, Churchill A Life (London: Pimlico, 1991), 584.
7 Hansard 1803-2005-Commons.Sitting-Oral Answers to Questions. Admiralty Yacht "Enchantress". HC Deb 05 March 1912 vol 3 cc 197-8.
8 Ibid.
9 Randolph S. Churchill, Winston S. Churchill, vol. 2, Young Statesman 1901-1914 (Hillsdale, Mich.: Hillsdale College Press, 2007), 586.
10 "Deep Water Dock On Humber Visited By Winston Churchill," The Christian Science Monitor, 13 September 1912, 14.
11 Gilbert, 248-49.
12 Hansard 1803-2005-Commons. Written Answers. H.M.S. "Enchantress". HC Deb 26 June 1913 vol 54 cc 1236-8W.
13 Mary Soames, ed., Winston and Clementine: The Personal Letters of The Churchills (New York: Houghton Mifflin, 1999), 83.
14 William Shrivell. Stanlee Shipping AO Hill Ltd. Dover Industries Ltd. Sussex History Forum, http://sussexhistoryforum.co.uk/index.php?topic=470.20;wap2, accessed 20 May 2016.
15 Johnson, 38.
Churchill Project Articles
Stay In Touch With Us
Subscribe now and receive weekly newsletters with educational materials, new courses, interesting posts, popular books, and much more!