Articles

Churchill and Socialism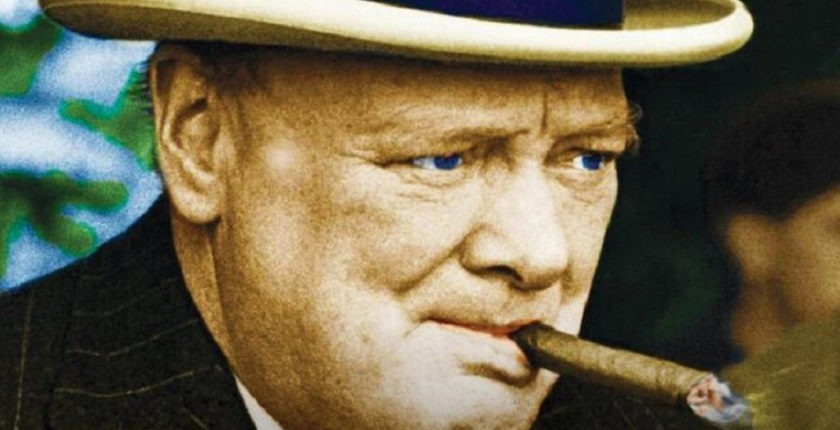 ---
The following excerpt from Churchill's Trial © 2015, by Larry P. Arnn, is reproduced with the permission of the author and the publisher HarperCollins Christian Publishing, Inc.
---
"LO! A NEW ENGLAND"
Churchill thought that war, ever terrible, had become more so. He thought the same about peace. Ever troubled with injustice and strife, with tyranny and discord, it had become afflicted with the potential for new and more virulent forms of despotism. The cause, he thought, was the same in peace and in war—what we have seen that he calls "mass effects." The essay in which he explains these mass effects thematically gives an account of "modern life," both in war and in peace.1 In war these mass effects would kill; in peace they would dehumanize. In war they threatened the physical destruction of the free nations; in peace they threatened their souls, their "spirit," which Churchill thought was the decisive thing about humans.2
For Churchill politics was higher than war, and peaceful purposes were finally, if not always immediately, superior to victory in war. These mass effects, manifested in politics at home, were no less sinister than their manifestation in the world wars. If there is anything clear from the life of Winston Churchill, it is that he regarded it as better to be killed than corrupted.
The causes of these mass effects were partly "unconscious"—they were not guided by anyone's intentions. However they may have begun, they proceeded on their own, outside the management of anyone or any group.3 At the same time they were partly conscious: there were "conceptions" behind them, conceptions that people held and according to which they acted. The Russian Bolsheviks carried these conceptions to their "utmost extreme."4 They had their foothold also in British politics, especially in the Socialist movement. That movement was based, Churchill argued, on a new kind of doctrine—a doctrine like the Bolshevik if less extreme.
Churchill argued that the basis of socialism was like that upon which Stalin stood, except it was found inside Britain and the British; like that upon which Hitler stood, except speaking English and participating in the ordinary processes of the British Constitution. The danger of socialism was intensified by the fact that Churchill believed he owed the duty of common citizenship to the British statesmen and citizens who followed its doctrines. He recognized that if they came to power through the electoral processes of the British Constitution they were entitled to that power, even if their principles would in his view ultimately subvert that Constitution.
Socialism in Britain
Churchill and British socialism were born and grew up together. British socialism was incubated in the Fabian Society, a group of thinkers and activists led by playwright George Bernard Shaw and social thinker Sidney Webb.5 Churchill knew these men, corresponded with and wrote about them, and had cordial if also controversial relations with them. They and others formed the society in 1884, ten years after Churchill's birth. In 1900, the year Churchill entered Parliament, they and others formed the Labour Party, the political instrument that eventually brought socialism to Britain.
Socialism went from strength to strength during Churchill's life: by 1906 it was cooperating with the Liberal Party in many constituencies to prevent the election of Conservatives; in 1910 it elected forty-two members of Parliament; in 1924 it formed a short-lived minority government; in 1929 it gained for the first time a plurality of seats in the House of Commons. In 1945 it defeated Churchill's Conservatives in a landslide and governed for five years with a large majority. True to its word, it nationalized eight major industries, six of which remained under public control for decades. Churchill resisted this tide with all his might and throughout his life, and to a considerable extent he resisted it in vain.
Who were these Fabians against whom Churchill set his face? They were in the main expositors of the historicism of the Left that grew up in Europe in the late 19th and early 20th centuries. Karl Marx lived in London from 1849 until his death in 1883, and many Fabians knew him. On the other hand the Fabians were not Communists or revolutionaries, and they took only limited lessons from Marx.6 They took their name from the Roman general Fabius Maximus, the great Cunctator (Delayer) who defeated Hannibal by temporizing for years but striking hard when the time was right.
The Fabians had their own ideas; they believed in analysis and argument, and they were good at them. In a compliment that he was qualified to pay, Churchill called George Bernard Shaw the most brilliant living writer of English.7 Shaw used that ability to compose key sections of the seminal Fabian Essays in Socialism,8 written by seven authors including Shaw and Webb. These essays explain early British socialism with an authority that approaches the authority of The Federalist on the Constitution of the United States.
The Fabians were committed to popular rule. In the main, they thought that the ordinary processes of politics would pro­duce a reformed Parliament based on universal suffrage. They believed that such a Parliament would bring the Socialist state into being, certainly and peacefully. In these beliefs they were proved correct, at least in regard to actual events in Britain.
Most Socialists believed that history—an important word— proved that capitalism resulted necessarily in the exploitation of those who labor without ownership. Capitalism must result in the falling of wages to the level of basic human subsistence, which is the necessary stopping point because workers do not compete for jobs after they have died. The Fabians believed that the public ownership of much or most or all of the means of pro­duction would solve this problem and achieve more economic equality and a more efficient use of assets.9
SOCIALISM, HISTORY, AND NATURE
Socialism means many new things for every human institution and relationship, and it means them according to an over­-arching idea that at least some Socialists called nature. For socialism, nature is change. Change is "rooted in the nature of human living. Nature herself changes."10 Change happens over time, and therefore nature is history. History is not so much a story as it is a force. History has a pattern or progress that can be seen and understood, at least at this later stage of history, the stage that makes socialism possible. The world "moves from system, through disorder, back again to system."11 Through the study of history, we can learn to "class men and ideas in a kind of geological order in time."12 The Fabians believed mankind was on the verge of the decisive change for the better—change long prepared by the struggles of mankind through history.
Moreover this view of history provided, thought Sidney Webb, an objectivity that modern philosophy had called into doubt. If history works on the human consciousness, then the world in which history unfolds is real, not a figment of our imagination. We can get close to nature because nature is talking to us with force, affecting our minds in ways that give us real knowledge of events outside ourselves. Also our deductions about the world have a basis in evolution: we know things better, even matters of logic, because we know them from an accumulation of experience through the ages and not merely from our rational insight. The former, Webb thought, is much more solid.13 The process of evolution places us closer to real knowledge and closer, therefore, to the real workings of nature. This answers the question of how the mind is connected to nature. It also raises the question of the mind's independence from nature. What ability has the mind to observe nature objectively?
"Historical Necessity"
Like minerals and elements that are formed through geological forces over eons, so humans are formed. Those who live in each age have their characteristics in relation to the historical circumstances or environment of that age. This includes the Fabian Socialists, who were mostly aware that the arguments of historical necessity applied to them as much as they applied to those who came before them. They were aware that their insights and deductions would be replaced or superseded by more advanced insights and deductions to come. They anticipated this and welcomed it; they were progressives. At the same time they understood that they had a special advantage: they knew about history, whereas those before them did not or did not so well. Aware of the ways of history, they were better able to break free from its constraints, or anyway to await patiently its opportunities, which they knew would come.
Behind the patience of the Fabians was optimism. They were living at one of the hinges of history, a pivot toward new things. There was a change in the "content of men's minds. Their standpoints are shifted. Their horizons are suddenly enlarged. Their whole way of considering things is altered, and lo! A new England." And in this process of change England discovered a "new category. We . . . are not merely individuals, but members of the community, nay, citizens of the world."14 This new understanding of community will work eventually for the transcendence of many limits. All can have enough, and all can have something close enough to the same amount to make real equality. All or most can participate in a richer and fuller life, possess a wider and higher knowledge. At the end all will have time to address even the great books.15
Implementing Socialism
This work of capitalizing upon the opportunities of history requires a new and more scientific kind of administration.16 Public policy must be made rational. Competing interests in the society must be subordinated to the good of the community, brought into harmony to reduce wasted resources and exploitation of some by others. This kind of administration requires a certain technical education to permit the application of the tools of science to public affairs. There is now a mass consciousness, and it is capable of "inarticulate criticism."17 But this mass can not articulate, and so its criticism must be articulated for it.
Ministries and administrations led by "national leaders" will do this for them. These leaders can seek "efficiency" in giving the people what they want. They can provide a "National Minimum." They can provide an "efficient education." They can promote "National Efficiency" by subsidies of "twentieth century universities," to study "chemistry and electricity, engineering and business organization in the largest sense." These universities would be "technical," studying science in the sense of art or of making.18 Those trained in this art are capable of creating "a deliberately planned co­operation in production and distribution for the benefit of all." This will feature "the universal enforcement of the national minimum," the "democratic control of industry," "the revolution in national finance," and "the surplus wealth for the common good."19 Science is the new rule to guide all common action: "No scheme of Bellers,20 or Babeuf,21 or Robert Owen22 could be resisted, if only their advocates could adduce scientific evidence of their practicability and good tendency."23
This process of applying science to human affairs through public administration is essentially experimentation, which is the process that will drive public administration in the future. For this reason, socialism, including the gradualist Fabian socialism, changes as it goes. Socialists hold various opinions. Each person changes his or her mind with time and circumstance, and the plans and platforms of socialism alter as they go. This is something different from the prudential adaptation to circumstances that Churchill understood to be the task of statesmanship. It is rather an adaptation to new truths revealed in new circumstances. One should not look among Socialists for consistency, even in principle, except for a consistent commitment to adaptation, to science, to experimentation.
It is therefore no surprise that the Socialist movement is of many changing minds about what specifically is to be done. Sometimes it thinks that the family should be reconstituted, at least partially socialized; but no, maybe that will not work.24 Maybe the key is to be found in central administration, unleashed and comprehensive; but no, maybe too much bureaucracy is a problem and voluntary associations must thrive.25 Maybe major industries should all be nationalized; but no, that goes too far and is inefficient. Maybe instead of comprehensive regulation, the "mixed economy" is all that is needed.26 Maybe the administration built to accomplish that economy will itself become a danger.
In the self-­understanding of Fabian socialism, these changes of mind are not signs of contradiction. Rather they are proof of the openness to evidence, of a commitment to empiricism. Experimentation lights the way. It can make mistakes, even huge mistakes. They are the price of progress. The experiments must be large because the new "category" of community requires that we remake not just this or that government department, but that we remake "society itself." This requires that the "political system and ideas in which [the individualist system of capital production] naturally found expression . . . must go."27
Socialism and Christianity
The Fabians and their allies looked forward to a climax that would share features with the culminating events foreseen in the Christian faith. The religious foundations of socialism are instructive about its character. Many Socialists were atheists, but others were Christians. Most of the Christians believed that God through Jesus had set about His work through history, here on earth. He was building heaven and a perfect human soul here on earth, and He was doing it through events, including especially the events influenced by socialism.28
In the Fabian Essays, religion generally and Christianity specifically are indicted for shielding men from the knowledge of their own faults and misdeeds and for making them complacent about the state of things here below.29 But also Sydney Olivier wrote that the Catholic Church, now "decrepit," had done fine things: it insisted on the duty of helping the poor; it advanced the "widest and freest system of education" the world had known; and above all, with its "revolutionary conception that God was incarnated in Man," it had exploded the "hideous superstition" that the human heart is evil, replacing that with the faith "in the perfectibility of each individual soul" and the idea that "God must be Love" because there is nothing better.30
Love is an important theme in the Fabian Essays, and it is about to have its day. Up to now the progress, even the advance of democracy, was driven not so much by "love of the many" but by "hatred of the few."31 But love, Webb wrote, can be liberated, and it can flourish. Love is the social instinct, and it is connected to morality, which comes into being whenever we deal with others. For Sydney Olivier, at least, morality does not seem to be a personal virtue, connected to the nature or proper operation of the human being. It is not a thing like courage, the right disposition toward danger; or moderation, the right disposition toward pleasure. When the individual in solitude exercises morality, that exercise is "indifferent."32 Only in society can morality be understood. The only teachers of morality are "love, the social instinct, and science, which is ordered knowledge."33 Love seems to be natural, a driving force in humanity. On the other hand, like everything else, it takes its shape and definition only in society.
When this social instinct of love is liberated, it will be so powerful that philanthropic works will not be honored as they are because they will be seen as simply reasonable—as the path "indicated by common sense toward the satisfaction of the individual passion for the extension of freedom and love."34 This individual passion will take over for the profit motive when the profit motive is removed. No longer need we work for material gain. "[T]he gold-­hunger would disappear upon the certainty of subsistence." It will be replaced by "the desire to excel, the joy in creative work, the longing to improve."35 When subsistence is assured to all, education can do wonders. The mind can be "trained to appreciate the inexhaustible interest and beauty of the world, and to distinguish good literature from bad." This good literature has become "dirt­-cheap," and all can appreciate it. Also they can appreciate "clean and beautiful cities, the joy of the fields, the museum, the art-­gallery, the lecture­-hall, the drama, and the opera."36 There will be a leap not only into freedom but also into the cultivation of elevated things. These things will apparently still be considered elevated and refined, even if the ground in reason and faith upon which they were constructed is altered or eroded.
These great things are to be the work of man, not of God, even if they are God's work. The less pious among the Fabians thought that science had shown nature to be "red in tooth and claw." Nature is a cruel and dangerous place. If God made this nature, then he is not benevolent. If he did not make it, then he is not omnipotent.37 The more pious among the Fabians thought that Jesus had set us an example of a perfect man, an example living among us here and now, commanding us to do the work here and now. All the Fabians, pious or no, thought that the work was to be done on this earth and the gains to be achieved now or soon by our efforts. Anything less would be a disservice to mankind and would tolerate continued misery and wrong. The opportunity is here: it lives in history; it lives in the science through which we understand and by which we can tame ourselves and the world around us.
In regard to means and timing, Fabian socialism was a gradualist movement, proceeding by argument and democratic processes. In contrast to the means it adopted, its aims were far­-reaching in every area of human life, especially in key areas where human beings exercise their main responsibilities. These include especially the way we make our livings, the way we raise our children, and the moral sense under which we make our most serious judgments. Socialism meant change in all of these areas; Churchill resisted that change in all of them.
"Breaking the Limits" of the Family
Take, for example, the family. Marx, a precursor of limited influence with the Fabians, called for the abolition of the family on the grounds that under capitalism it had become a system of exploitation of women and children. The family had already dis­appeared, he wrote, among the proletarians, who had no capital. It would disappear among the bourgeoisie when their capital was removed.38 In the Fabian Essays, socialism was not "concerned with questions of sex or family."39
On the other hand, the insistence of each family on "having a separate home, and on cooking every day a separate series of meals in a separate kitchen" was the cause of "waste and discomfort." That was being ameliorated because "our growing sense of the individual \responsibility and individual rights of wives and children seems already to be lessening both the isolation of these groups and their internal coherency." That is, the "internal coherency" of the family was "lessening." This tendency "must go very much further before society can absorb the family life, or the industries of the home be managed socially." But when the time comes, the British will "cease to feel that an Englishman's home should be his castle."40
In The Intelligent Woman's Guide to Socialism and Capitalism, George Bernard Shaw wrote that socialism was neutral about kinds of marriage, which were conventional and not, as the church thought, "metaphysical affairs." But socialism would have a "tremendous effect" on marriage and family. No longer would a "married woman [be] . . . a slave chained to a male one (this is a paraphrase of Marx)." Socialism would end this because it would equalize incomes, liberating unhappy wives and children to leave whenever they pleased. Moreover the state would "concern itself with the question of how many people the community is to consist of, and, when a change is desired, at what rate the number should be increased or reduced." Socialism would eliminate the "overpopulation characteristic of capitalism."41 Conception, previously a matter for families to figure out, would then be regulated.
The idea seems to be absent in the Fabian Essays that mothers and fathers have the job of raising children, and they do that job better when they are together. Rather, the wish for the "aggrandizement for . . . family" leads men to seek large incomes.42 The English family is the scene of "selfish isolation." Fabian author Graham Wallas suggested that children must be weaned from this—an apt metaphor.43
Some of the Fabians seem to think that children can be raised by the society, and therefore family relationships can be weakened or broken. These relationships are, true enough, constraining. Parenting is not easy, and it takes up much of life. Children are affected by the quality of the parenting they get, and there is a wide range of qualities. Family is a lot like property in these regards: it seems necessary, and therefore it constitutes a limit on human life. Also it tends to result in wide differences between people. Socialism, its adherents asserted, would lay the ground for breaking these limits and narrowing these differences.
THE NEW FABIANS
Even as socialism triumphed during Churchill's later career, it encountered difficulties, some of them from Churchill himself. One of those problems was the declining popularity of the 1945 Labour government amid the constant friction produced by nationalization and increasing regulation. These did not go smoothly, which was a disappointment to people who thought a new day had dawned and the Socialist program would win welcome for bringing it nearer. Socialist thinkers worked out theories to adapt to these difficulties and seek to overcome them. In 1949 a group led originally by G.D.H. Cole,44 who opposed most forms of social coercion, met and began to plan a new series of essays. These were published in 1952 under the title New Fabian Essays. They show the flexibility of socialism and also its commitment to experimentation led by scientific administration.
R.H.S. Crossman
The New Fabian Essays are on the whole less optimistic and certain than the Fabian Essays. Member of Parliament and intellectual R.H.S. Crossman contributed a particularly thoughtful essay, "Towards a Philosophy of Socialism."45 The chapter title reveals second thoughts about a Socialist project that had exercised such force in British politics and society.
For Crossman, evolution was inevitable but not necessarily good. Nature was inadequate: it produced "either a wilderness of weeds or an arid patch of ground." It must be cultivated, and it seemed to supply no standard for the cultivation. To Crossman, exploitation and slavery were the "normal state of man." And today, "the enemy of human freedom is the managerial society," of which the Soviet Union was a pertinent example.46 The Soviet Union exemplified the fact that the "managerial society" was a "threat." The United States represented something similar, with the power of its corporations. By implication, the bureaucratic Socialist state was another "threat."47
In some places Crossman sounded like Churchill. Churchill had spoken of the process of "deglutition" by which Parliament would absorb socialism and, he implied, convert it to something better.48 Crossman seemed an example of that. Moreover he was an interesting man, distinguished in classics at Oxford, distinguished in World War II, and later editor of the New Statesman. Like many in the Labour Party and the Socialist movement, he was working for what he considered an exalted cause. And he did it with wit and style. His writings about life as a cabinet minister helped to inspire the popular television series Yes Minister, which exhibits the interplay between the bureaucrat and the elected politician.
Some Socialists, Crossman wrote, despair because of the failures of idealism: they follow the example of Buddha. He favored another example: Prometheus, who "did not believe that any law of nature or divine purpose would automatically give freedom and happiness to his fellow men. Neither God nor history was on his side. It was his duty to steal fire, in defiance of law and order, and to prefer eternal agony to the denial of truth."49 Crossman was determined not to go back; the experiment must continue because it was the only way to overcome the problems that beset mankind. Crossman knew danger and suffering. He had risked everything for his country in wartime. He was prepared to risk everything still.
Churchill thought that the bold experiments of socialism would call forth more experiments, especially when they failed. He even suggested that the Socialists found failure preferable. In 1947, when the Labour Party reigned supreme, Churchill decried the "confiscatory taxation" applied to "wealth to an extent only practiced in Communist countries" and the fact that daily life was "increasingly subjected to ten thousand Regulations and Controls." He continued, "One could almost wonder whether the Government do not reconcile themselves to the economic misfortunes of our country . . . because these misfortunes give the pretext of establishing even more controls and an even larger bureaucracy. They make mistakes which make things worse. As things get worse they claim more power to set them right."50 That would not be a fair characterization of the intentions of R. H. S. Crossman, at least. But it was true that Crossman and his colleagues were determined to keep on, whatever the setbacks.
Socialism's "Divine Plan"
Socialists sought transformations of every human institution under conceptions of right or justice that operated on several levels. Most Socialists believed the Socialist state would be ethical, that is, right and good, because it would make a way for all to live equally well, and it would suppress or overcome the selfishness in man. Some of them focused on economic justice and utility: economic results would come out fairly or equally under social­ism, and more would be produced, or anyway more of the right kind of thing. Some of them focused on the qualities of character that would develop under socialism: a wider sympathy, a deeper compassion, a stronger sense of community with one's fellows. Many Socialists were evolutionary Christians, and believed that socialism was a divine plan.51 Socialism had therefore a basis, in the thinking of its founders, in technical economic science, in morality, and in religion. Some early Socialists emphasized one of these elements and others another. They came together in a powerful movement that rose gradually to dominance and held it for a time. In some ways, it holds that dominance still.
The turning of one of the greatest nations and empires in history to new ideas and new institutions, based on revolutionary hopes, does not seem so remarkable today, for most or all the nations of Western Europe and the United States have to various extents embraced these fundamentals and built institutions upon them. The institutions and the thought of modern liberalism are still evolutionary and egalitarian, and now also they are entrenched in structures of government that approach or surpass half the size, in economic value, of the nations they rule. They are dominant now, just as their founders said they would be. They advanced toward this dominance during Churchill's life—and against his opposition.
Nor can one regard those who brought socialism and its companion and successor, bureaucratic rule, to Britain as intending evil. In the minds of many or most of those who did the work, it was an act of love and faith. Many or most of them were people of high character and service. They intended to set many things right that were surely wrong, things that deeply moved Churchill. Millions in Britain worked long hours at debilitating work for wages that hardly supported their families. For them any illness threatened hunger or the breakup of the family. Meanwhile others who worked less in better circumstances enjoyed security and comfort or even opulence. Not only did Churchill regard this situation as wrong; he thought it was politically unsustainable. He meant to do something about it.
But he would not abide socialism.
Endnotes
1 Churchill, "Mass Effects in Modern Life," in Thoughts and Adventures, 269–80.
2 Gilbert described the following story from Churchill's farewell to the Cabinet in 1955, "Churchill's final words to those Ministers not in the Cabinet made a strong impact on those who heard them. 'He wished to make two points,' Lord De L'Isle and Dudley later recalled: 'Man is spirit,' and 'Never be separated from the Americans.'" In Winston S. Churchill, vol. 8, 1123.
3 Churchill, "Mass Effects in Modern Life," in Thoughts and Adventures, 271.
4 Ibid., 272.
5 Mark Bevir, The Making of British Socialism (Princeton: Princeton University Press, 2011), 18. Bevir calls Shaw and Webb "the two leading Fabian socialists."
6 Churchill wrote that the Fabians owed "little to dogmatic theory and nothing to Marx." Surely they did not share Marx's view that dictatorship was necessary or that the class struggle had to be violent. They prided themselves on their practicality and patience, not the traits for which Marx made his fame. See Winston S. Churchill, History of the English-Speaking Peoples, vol. 4, The Great Democracies (New York: Dodd, Mead, & Company), 364.
7 Churchill, Great Contemporaries, 34.
8 George Bernard Shaw, ed. Fabian Essays in Socialism. The Online Library of Liberty, Indianapolis. Liberty Fund edits and reprints the 1891 American Edition by Humboldt Publishing. It is available at http://oll.libertyfund.org.
9 Sydney Olivier, "The Basis of Socialism: Moral," in Fabian Essays in Socialism, 109–11.
10 George Douglas Howard Cole, The Simple Case for Socialism (London: Victor Gollancz, 1935), 10.
11 Hubert Bland, "Transition to Social Democracy: The Outlook," in Fabian Essays in Socialism, 249.
12 Sidney Webb, "The Basis of Socialism: Historic," in Fabian Essays in Socialism, 6.
13 Bevir, The Making Of British Socialism, 177–78.
14 Sidney Webb, "Twentieth Century Politics," November 8, 1901, in The Basis and Policy of Socialism (London: A. C. Fifield, 1908), 77.
15 Olivier, "The Basis of Socialism: Moral," in Fabian Essays in Socialism, 125.
16 Bevir, The Making of British Socialism, 213. Bevir wrote: "The Fabians looked on political reform not as a way to solve social ills but as administrative measures to facilitate good government. Although they did not share [John Stuart] Mill's fear that democracy might erode individual liberty, they rarely promoted greater popular participation in government. Generally, they welcomed the rise of a professional civil service and policy experts."
17 Webb, "Twentieth Century Politics," in The Basis and Policy of Socialism, 82.
18 Ibid., 92–95 and throughout.
19 Labour Party Executive Committee, Labour and the New Social Order: A Report on Reconstruction (London: Labour Party, 1918), 4–5.
20 John Bellers (1654–1725); Quaker and philanthropist. At the age of thirty, he married Frances Fettiplace. He developed an educational scheme for poor children, supported the establishment of hospitals for the sick in London, advocated for the better management and welfare of prisons, and wrote extensively on religious discourse and philanthropic schemes. His Proposals for Raising a College of Industry of All Useful Trades and Husbandry (1695) advocated the establishment of cooperative communities and was quoted by Karl Marx in Das Kapital.
21 François-Noël Babeuf (1760–97); French political journalist. Called "Gracchus" for his proposed agrarian reforms because of their similarity to those of the ancient Roman statesman Gracchus. He advocated tax and land reform, was arrested and imprisoned on multiple occasions for his protests, founded the journals Le Correspondant picard and Le Journal de la liberté de la presse, and was guillotined with Augustin Darthé for participating in insurrectionary committees planning to overthrow the Directory and restore the Constitution of 1793.
22 Robert Owen (1771–1858); second youngest of seven sons of the postmaster in Newtown, Wales. Businessman, cotton-mill owner, and philanthropist. He sought to improve living conditions and education in New Lanark; and advocated for factory reform; founded self-contained, utopian communities in America and Great Britain. A founder of the Grand National Consolidated Trades Union (1834), he is considered one of the seminal figures in British socialism.
23 Sidney Webb, Socialism in England (London: Swan Sonnenschein & Co., 1890), 119.
24 J. Ramsay MacDonald, Socialism and Government: Volume 1 (London: Independent Labour Party, 1909), 72–74. MacDonald wrote that women are the creators and protectors of the family and men of the tribe and the nation. He saw these matters in an older sense, and he objected to the feeding of schoolchildren at government expense as a taking of "one of the functions essential to family life." He objected to the planning for a "community of wives," arguing that the Socialist state must not be masculine only. MacDonald was not the most radical Socialist.
25 Austen Albu, "The Organization of Industry," in New Fabian Essays (London: J. M. Dent & Sons, 1970), 141.
26 C. A. R. Crosland, "The Transition from Capitalism," in New Fabian Essays, 43.
27 Labour Party Executive Committee, Labour and the New Social Order: A Report on Reconstruction (London: Labour Party, 1918), 3–4.
28 Bevir, The Making of British Socialism, 227.
29 Shaw, "The Basis of Socialism: Economic," in Fabian Essays in Socialism, 133–34.
30 Olivier, "The Basis of Socialism: Moral," in Fabian Essays in Socialism, 123.
31 Webb, "The Basis of Socialism: Historic," in Fabian Essays in Socialism, 7.
32 Olivier, "The Basis of Socialism: Moral," in Fabian Essays in Socialism, 100.
33 Ibid., 108.
34 Ibid., 117.
35 Annie Besant, "The Organization of Society: Industry under Socialism," in Fabian Essays in Socialism, 209.
36 Olivier, "The Basis of Socialism: Moral," in Fabian Essays in Socialism, 125.
37 Shaw, "The Basis of Socialism: Economic," in Fabian Essays in Socialism, 158.
38 Karl Marx and Friedrich Engels, The Communist Manifesto (New York: Simon and Schuster, 2013), 86–88.
39 Olivier, "The Basis of Socialism: Moral," in Fabian Essays in Socialism, 95.
40 Graham Wallas, "The Organization of Society: Property Under Socialism," in Fabian Essays in Socialism, 167.
41 George Bernard Shaw, The Intelligent Woman's Guide to Socialism and Capitalism (New York: Brentano's, 1928), 408–9.
42 Wallas, "The Organization of Society: Property Under Socialism," in Fabian Essays in Socialism, 177.
43 Ibid., 182.
44 George Douglas Howard Cole (1889–1959); born in Cambridge. A lecturer, writer, and advocate of Guild Socialism, he served as reader in Economics at Oxford, 1925–44; and of Social and Political Theory, 1944–57. An active member of the Labour Party and of the Fabian Research Department, he founded the National Guilds League; helped to lead the New Fabian Research Bureau as secretary (1931–35) and chairman (1937–39); chaired the Fabian Society (1939–46, 1948–50) and served as its president (1952–59); and was a contributor to and director of the New Statesman from 1947.
45 R. H. S. Crossman, "Towards a Philosophy of Socialism," in New Fabian Essays, 1–32.
46 Ibid., 10–12.
47 Ibid., 27.
48 Churchill, "Parliamentary Government and the Economic Problem," June 19, 1930, in Thoughts and Adventures, 248.
49 Crossman, "Towards a Philosophy of Socialism," in Fabian Essays in Socialism, 14–15.
50 Churchill, "Conservative Party Annual Conference Address," October 4, 1947, in His Complete Speeches, vol. 7, 7531.
51 Bevir, The Making of British Socialism, especially chapters 11 and 14.
Churchill Project Articles
Stay In Touch With Us
Subscribe now and receive weekly newsletters with educational materials, new courses, interesting posts, popular books, and much more!