Articles

The Boer War Armoured Train Incident and Churchill's Escape, 1899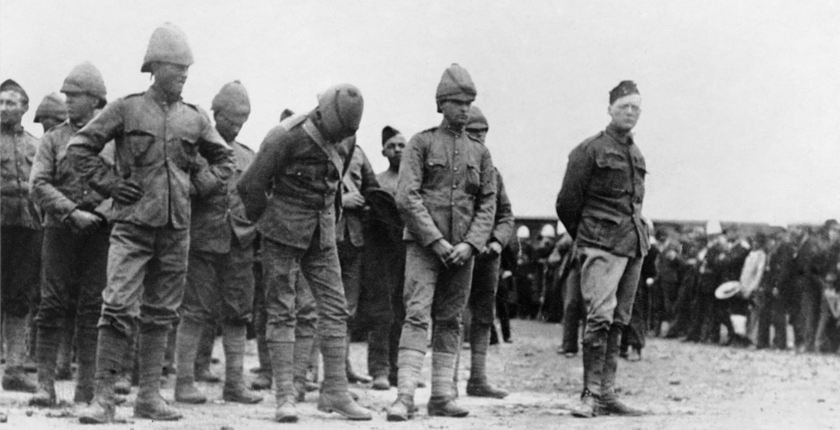 ---
Churchill, clearly put out at being made prisoner as a war correspondent, stands aside from other prisoners following the Boer attack on the armoured train, 15 November 1899. Imperial War Museum

---
War broke out in South Africa in October 1899. At issue was authority over the largely Boer (Dutch) settlers in the Transvaal and the Orange Free State. The Boers offered stout resistance, and did not capitulate until May 1902. In late 1899, Winston Churchill was catapulted to prominence following the famous armoured train attack and his subsequent escape from a Boer prison camp. His adventures fostered long-lasting controversy. Mr. Hussey's original essay (see author note) was first published in 1999. So far as he and we know, no further discoveries have been made to dispute his conclusions.
When the war broke out, British forces in Natal soon found themselves in a disastrous situation. They were besieged in Ladysmith, their 175-mile strategic route to Durban and the sea almost undefended. Had the Boers reached the coast in those early days, it is possible that pro-Boer European powers might have openly intervened, entirely changing the war's outcome. In 1899 the main British force, under General Sir Redvers Buller, was still at sea. A Boer uprising might also have occurred in Cape Colony, where Boer settlers formed a vocal minority.
The exiguous British garrison in Natal, only 2000 strong, stood on the single-track railway at Estcourt, forty miles south of Ladysmith. Since cavalry units were scarce, the British patrols used armoured trains. It was almost inevitable that the longer such reconnaissance continued, the more likely the risk of a train ambush and derailment. But given the situation in November 1899, the risk had to be taken.
Daily or near-daily patrols began on 4 November. By the 13th the Boers were known to be scouting not far from Estcourt. The railway station at Chieveley, some fifteen miles north, was judged beyond bounds. Armoured trains were instructed not to go beyond Frere, midway between Estcourt and Chieveley.
The armoured train
On 15 November a train departed under the command of highly regarded, 37-year-old Captain Aylmer Haldane. It carried about 150 soldiers, a naval gun, and a telegraphist who linked up to the standing wires alongside the track. It also carried Winston Churchill, 24-year-old correspondent of the Morning Post who had been invited by his friend Haldane.
The train reached Frere, then telegraphed that contrary to orders, it would go on to Chieveley. Nearing that town, it came under fire and began its return journey. The contemporary evidence is clear, although some obfuscation appeared in later accounts: Haldane let himself be persuaded by Churchill to go beyond his orders. It was quite extraordinary, and perhaps an indication of Churchill's persuasiveness, that he so dominated the decision of a regular officer thirteen years his senior.
The attack
Nearing Frere, the train was derailed by Boer forces who placed obstructions on the track and then opened fire. Haldane organised the defence. Churchill directed unblocking the line and freeing the locomotive, displaying great bravery by completely disregarding hostile fire. He placed the wounded on board, and it escaped to Estcourt. Courageously, he then left the locomotive to rejoin Haldane and the doomed defenders. En route, he was taken prisoner by a Boer trooper. As an armed civilian, he might have been summarily shot by a field court-martial. He was lucky in avoiding this. Less luckily, among the captured British, both en route and at the Boer prison camp, Churchill was shunned and blamed for the incident.
By examining contemporary reports of other newspaper correspondents, the Buller papers, and other soldiers' reports, I believe this to be a precise account of what actually happened. It seems clear from the evidence that Churchill, not Haldane, was responsible for the train going out-of-bounds as far as Chieveley.
The escape plans
No sooner were the British ensconced in Pretoria than Haldane, Churchill and others planned to escape. They were joined by a sergeant, a rough diamond called Brockie, who spoke the local languages. The trio were repeatedly at odds over tactics—worsened by personal hostility between Brockie and Churchill.
Their first attempt was foiled by small accidents. A second attempt was planned for a night when the moon would rise late, and the habits of Boer guards might make it possible. Adjacent to the prison's high fence were latrines—a suitable excuse to stroll that way. It was settled that Churchill, the least athletic with his weak shoulder, should go over the fence first. Haldane would follow and then Brockie (who boasted that he could get out alone any night). As darkness fell on 12 December 1899, the party assembled close to the latrines. Haldane proposed to give Churchill a hand up, then follow, with Brockie close behind. Unfortunately, the Boer guards did not move, and a rising moon threatened to shed too much light on the area.
Haldane miscalculates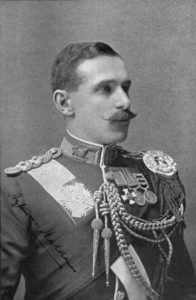 Haldane, who throughout seemed unable to keep the trio from bickering, then decided to postpone the attempt. He did so in an extraordinary manner. Leaving Churchill close to the fence, he and Brockie went back to the main prison building for dinner. Churchill had warned them that he intended going over. According to Haldane at the time, Churchill asked them "to follow presently." A dozen years later, Haldane remembered this as "don't follow immediately"—which they could hardly do while having dinner.
An officer in the latrines heard Churchill whisper that he was safely over, and that Haldane should follow. He passed this to Haldane, who climbed onto the latrine roof. He was seen by a guard and forced to retreat. Through the fence, Churchill had whispered that if Haldane was unable to come, could Brockie join him? This annoyed Haldane. Later that evening Brockie blamed Haldane and Churchill for the confusion.
At large
Outside the fence and unable to climb back, Churchill was without Brockie's local knowledge and language skills. Characteristically, he took what fate provided, went off into the night, and after many adventures found his way to freedom. (See "Churchill as Escaped Desperado.") Haldane and Brockie made their escape several months later.
Brockie died soon afterward and left no testimony, but Haldane nursed a grievance against Churchill for the rest of his life. He spread a number of stories implying double dealing or betrayal. As Churchill rose to prominence, these unpleasant stories resurfaced periodically. There were some unfortunate scenes. A dozen or so years later, as a cabinet minister, Churchill tried to bully the middle-ranking Haldane. On the other hand, during and after the First World War, Churchill was often magnanimous when Haldane asked for his assistance.
The author
Mr. Hussey is a military historian. This article is excerpted from a lengthy footnoted essay in The British Army Review no. 123, available upon request. Recommended to us by Andrew Roberts, John Hussey's study examines the fraught claims and counter-claims about the armored train incident and Churchill's escape, arriving at what he and we believe is a fair conclusion.
Churchill Project Articles
Stay In Touch With Us
Subscribe now and receive weekly newsletters with educational materials, new courses, interesting posts, popular books, and much more!