Articles

"Favourable Reference to the Devil": Why Churchill Allied with Stalin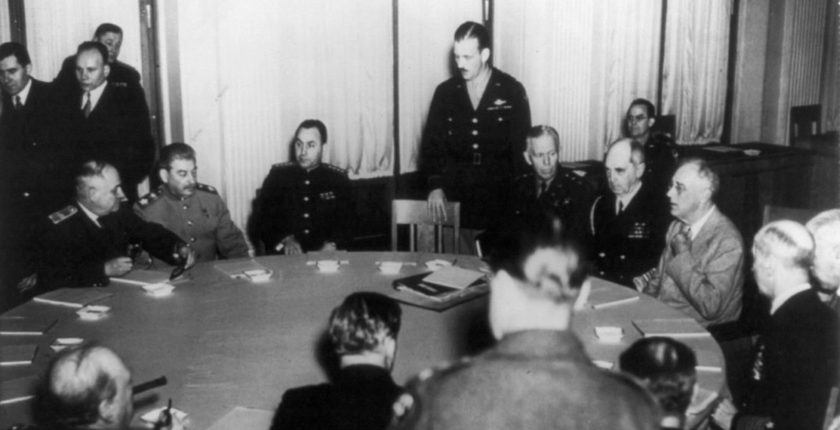 ---
In an article for The Spectator, historian Sean McMeekin alleges that Churchill "sacrificed British imperial interests in order to save Soviet communism." Stalin, McMeekin claims, "could not have asked for a friendlier British government."1
This charge is nothing new. Classic examples include Pat Buchanan's 2008 polemic, Churchill, Hitler, and the Unnecessary War, and John Charmley's 1993 Churchill: The End of Glory. And, of course, Churchill did favor an alliance with Stalin against Hitler. The problem with the argument in the words of Arthur Balfour, is that "what's true is trite, and what's not trite is not true."
Churchill's support for Stalin during the Second World War followed from a simple calculus of the lesser of two evils. Britain could only take on one evil empire at a time, and, of the two, Churchill believed that Nazi Germany posed the greater threat to liberty. He famously remarked, "If Hitler invaded Hell I would make at least a favourable reference to the Devil in the House of Commons."2 McMeekin attempts to sidestep this harsh reality, writing: "Whether or not the payoff was worth the price is a question well worth debating." Churchill's alliance with the Soviets stands or falls on this question: was Nazi Germany or the Soviet Union the greater danger in 1939?
The greater evil
With hindsight, one can easily marshal facts that portray Soviet communism as the greater evil. According to the best available estimates, the Stalin regime killed 20 millions of its own citizens. Nearly six million of those deaths occurred during the 1932–33 famine brought about by Stalin's collectivization policies.3 While Nazi Germany also killed 17 million civilians, most of those deaths occurred after Hitler's invasion of the Soviet Union in 1941.4 Thus, on the eve of the Second World War, one could argue—as Chamberlain and the appeasers did—that Nazi Germany served as a useful bulwark against a greater danger: the Soviet Union.
This analysis, however, misses a crucial point—one that Churchill recognized. Until 1939, the horrors of the Soviet regime had been primarily restricted to its own borders, while Nazi Germany had already made its expansionist ambition clear. In 1938, Germany annexed Austria. Later that year, Germany seized the Sudetenland. In 1939, the rest of Czechoslovakia passed under Hitler's control. The Nazi doctrine of Lebensraum dictated even greater expansion. By contrast, Stalin's doctrine of "socialism in one country" had kept the Soviet Union relatively peaceful until the Second World War began.
Global implications
It the wake of the First World War, German expansion presented a far more dangerous prospect because Hitler's ambitions concerned Western as well as Eastern Europe. Germany's "irreconcilable mortal enemy," Hitler claimed in Mein Kampf, "is and remains France."5 As a result, he argued, he "must undertake every sacrifice which may help bring about a nullification of the French drive for European hegemony."6
Nazi Germany thus threatened to subjugate the whole European continent—not just Eastern Europe. By 1941, it had nearly achieved that aim. With the resources of Europe behind it, Germany was in a position to threaten vital sea lanes and even Britain itself. In 1939, the Soviet Union could not pose a similar danger.
Therefore, Churchill's focus on the danger of Nazi Germany in the late 1930s reflected Hitler's aggressive, threatening foreign policy. Since Britain could hardly fight both totalitarian regimes at once, Churchill had no viable alternative but to seek alliance with the Soviet Union against a common enemy. Britain's security depended on the continued existence of an independent Russia, as Churchill observed following the German invasion of 22 June 1941:
[Hitler] wishes to destroy the Russian power because he hopes that if he succeeds in this, he will be able to bring back the main strength of his army and air force from the East and hurl it upon this Island, which he knows he must conquer or suffer the penalty of his crimes. His invasion of Russia is no more than a prelude to an attempted invasion of the British Isles.7
Recognizing reality
At least according to the Soviet ambassador, Ivan Maisky, Churchill did reassure the Russians that Britain would not interfere with Soviet expansion into the Baltics.8 But it is difficult to see the alternative. Britain could not defend the Baltic nations in the East while fighting for survival in the West. In fact, Soviet occupation of those countries favored British interests by putting greater distance between Hitler's armies and Moscow.
Similarly, Churchill did send vast amounts of military hardware to Russia—but, as McMeekin admits, British tanks "helped tip the balance in the Battle of Moscow," preventing the fall of Russia in December 1941.9 Likewise, Churchill supported Tito in Yugoslavia, but he was never "bamboozled" as McMeekin suggests. Rather, he simply asked, "who was killing the most Germans and how could we help them to kill more?" He sent British aid to the resistance fighter doing the most to end the war—Tito.10 By enabling Yugoslavia to win its independence without the Red Army, this support put Tito in position frequently to defy the Soviet Union during the Cold War.
Yalta and beyond
When Churchill took a harder line with Stalin at Yalta, he did not have to summon up his "old fire," as McMeekin claims. In fact, Churchill never lost it. Rather, he consistently followed the policy he had pursued throughout the Second World War: to fight the greater enemy. After the fall of Nazi Germany, that enemy became Soviet communism. While neither Britain nor the United States could free Eastern Europe in 1945, Churchill laid the foundations for Britain's nuclear deterrent and the policy of containment that ultimately brought victory in the Cold War.
Churchill's courting of the Soviet Union does not display a "riddle," but case study in prudence. As Bismarck said, "politics is the art of the possible." One might well wish—as McMeekin seems to suggest—that both Nazi Germany and the Soviet Union had collapsed in their life-and-death struggle and the British Empire survived unscathed. But the reality faced by Churchill in 1939 did not admit of that possibility.
Indeed, in 1940, Churchill and the British Commonwealth faced Hitler and his then-ally Stalin alone. That Britain survived the war at all is a remarkable achievement. That in so doing, she helped destroy Hitler's tyranny while laying the foundations for the successful containment of Soviet communism is testimony to Churchill's statesmanship.
Endnotes
1 Sean McMeekin, "Churchill's Enigma: The Real Riddle is Why He Cosied up to Stalin," in The Spectator, 20 March 2021.
2 Winston S. Churchill, The Grand Alliance (Boston: Houghton Mifflin, 1950), 370.
3 Stéphane Courtois, Nicholas Werth, Jean-Louis Panné, Andrzej Paczkowski, Karel Bartošek, and Jean-Louis Margolin, The Black Book of Communism: Crimes, Terror, Repression, trans. Jonathan Murphy and Mark Kramer (Cambridge, Mass.: Harvard University Press, 1999), 4, 167.
4 Katharina Buchholz, "17 Million Fell Victim to the Nazi Regime," Statista, 26 January 2021.
5 Adolf Hitler, Mein Kampf, trans. John Chamberlain, et al. (New York: Reynal & Hitchcock, 1941), 902.
6 Hitler, Mein Kampf, 966.
7 Winston S. Churchill, "The German Invasion of Russia," in Robert Rhodes James, ed., Winston S. Churchill: His Complete Speeches 1897-1963, 8 vols. (New York: Bowker, 1974), VI, 6430–31.
8 Ivan M. Maĭsky, The Maisky Diaries: Red Ambassador to the Court of St James's, 1932-1943, trans. Gabriel Gorodetsky (New Haven, Conn.: Yale University Press, 2015), 238. See also "Churchill and the Baltic," Part IV.
9 McMeekin, "Churchill's Enigma."
10 David Stafford, "If Only It Were So Simple" review of Hoodwinking Churchill: Tito's Great Confidence Trick, by Peter Batty, in Finest Hour 153 (Winter 2011–12), 47–48.
The author
Connor Daniels is a junior studying history and politics at Hillsdale College and a Winston Churchill Fellow.
Churchill Project Articles
Stay In Touch With Us
Subscribe now and receive weekly newsletters with educational materials, new courses, interesting posts, popular books, and much more!