Articles

Abstracts: Churchill and the Iron Curtain Speech, Part 2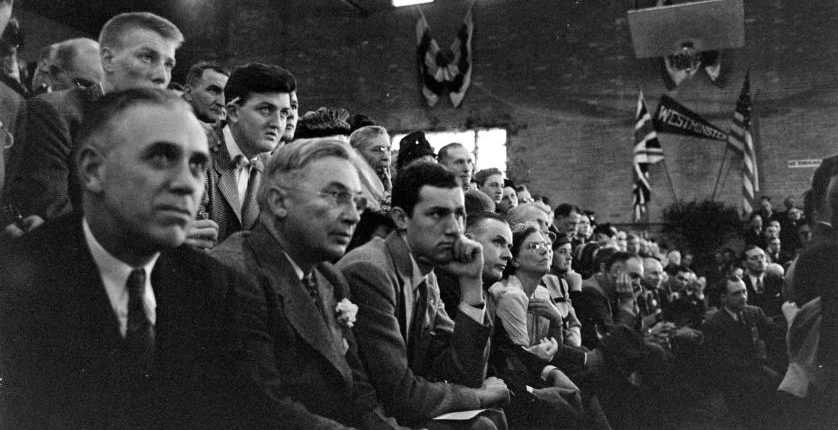 "Churchill's Fulton Missouri Iron Curtain Speech: Its Impact on Anglo-American Relations Seen From the 70th Anniversary Year," Steve Marsh, guest editor. Journal of Transatlantic Studies Vol.14, No.4  (2016)
---
"Churchill, Fulton and the Anglo-American Special Relationship: Setting the Agenda?," by Anna Marchi, Adjunct Lecturer of English, Bologna University (365-82): It is difficult to represent the reasoning of this paper based on advanced linguistic techniques like "corpus-assisted discourse studies" (CADS) without abundant use of quotations: "We treat discourse as a form of action. This is in accordance with foundational work in Pragmatics, specifically within Speech Act Theory, which conceives of language as performative." Those unversed in theory may simply have to accept the conclusion presented: "A detailed analysis of the text reveals that Churchill steered clear of 'othering' the Soviets as a 'them' group in order to consolidate his Anglo-American 'we' group. Although he was criticised in some quarters for his allegedly strident anti-communist message at Fulton, in quantitative terms the speech is actually only marginally about the threat of Communism. Instead, the threats he invokes are general ones of war and tyranny." In other words, purely based on his actual use of words, his image as an enthusiastic Cold Warrior was a "media construction."
"From Reykjavik to Fulton: Reagan, Thatcher, and the Ending of the Cold War," by James Cooper, Senior Lecturer in History, Brookes University, Oxford, formerly the 20th Fulbright-Robertson Visiting Professor of British History at Westminster College, (383-400): The Anglo-American dimension of Fulton highlights key differences within the Reagan-Thatcher "special relationship" in Anglo-American policies towards the Soviet Union. For those who wonder about the exact link with Churchill and Fulton, consider the speeches at Westminster College by Ronald Reagan on 19 November 1990 and Margaret Thatcher on 9 March 1996. Entitled "The Brotherhood of Man," Reagan's speech was impregnated with optimism, based on his conviction that freedom and democracy were ultimately bound to be the rule in the world. Margaret Thatcher was more cautious. While crediting Churchill's Fulton speech with spurring the West into creating key institutions and policies that ultimately triumphed in the Cold War, she pointed out that the collapse of the Soviet Union and ending of the Cold War had yielded new threats to the West.  
"Curtains, Culture and 'Collective Memory,"* by David Ryan, Professor and Chair of Modern History, University College, Cork, Ireland (401-15):  Consider the enduring "metapicture" of the Iron Curtain speech: the cast of mind created in 1946 endured longer than the geopolitical actuality. The Iron Curtain, Churchill's central metaphor, was in due course made a reality with the Berlin Wall, which lasted almost until Gorbachev toured the Churchill Museum at Fulton in May 1992. Despite Churchill's Fulton argument having by then run full circle, "the wall endures in our cultural mentalité, and in our cultural and institutional conception of the era." Even after the Berlin Wall collapsed in 1989, the metaphor remained current. As Saddam Hussein's statue was pulled down in Baghdad in 2003, Secretary of Defense Donald Rumsfeld was reminded of the Wall's collapse. When President Barack Obama visited Germany, he expressed pride in being able to stand on what had been the Wall's eastern side.
* Without specifically saying so, Ryan evidently draws the inspiration for his approach in Pierre Nora's seminal lieux de mémoire [sites of memory]. He was also greatly influenced by the French school of histoire des mentalités – the words mentalité and mentality recur in his text.
About the Author
Antoine Capet, FRHistS, is Professor Emeritus of British Studies at University of Rouen, France. Abstracts are intended as synopses of contents, not as reviews or endorsements of the papers or articles covered.
Featured Image: A rapt audience listens to Churchill in the college gymnasium. (Westminster College)
Churchill Project Articles
Stay In Touch With Us
Subscribe now and receive weekly newsletters with educational materials, new courses, interesting posts, popular books, and much more!